Google at the Google I/O event has introduced Google Bard, Google Search Labs with Generative AI Capabilities, AI Magic Editor tool, Immersive View for routes, Home app redesign, Help me write" in Gmail, PaLM 2
Magic Editor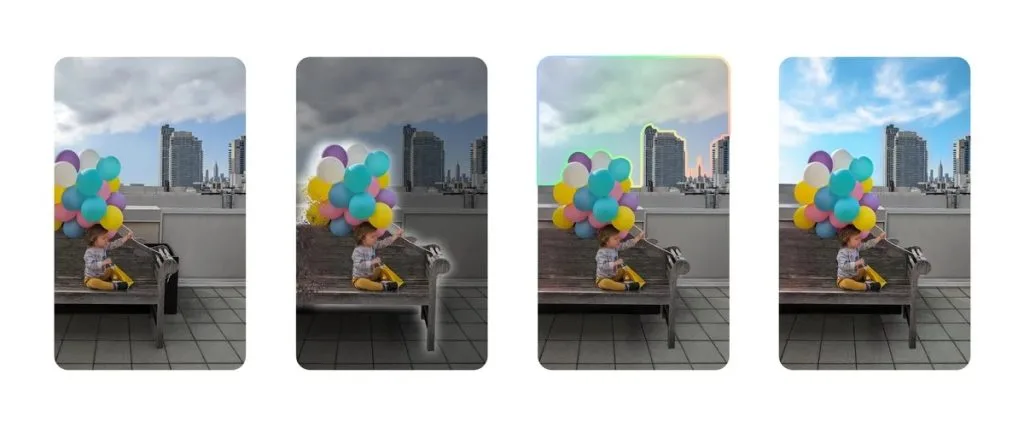 Google has introduced Magic Editor, an innovative editing tool that leverages generative AI to help you transform your photos and simplify your editing process.The new experimental editing experience called Magic Editor aims to simplify the photo editing process for everyone. This tool employs a combination of advanced AI techniques, including generative AI, to make complex edits without requiring pro-level editing skills. With Magic Editor, you can now edit specific parts of an image, such as the subject, sky, or background, to achieve the final look and feel you desire.
Magic Editor helps you improve the composition of your photo. By allowing you to reposition the subject of your shot, you can make sure that the framing is just right.For instance, if you have a photo of a popular waterfall, you can remove unwanted objects or adjust the sky's brightness to match your memory of the day. You can also relocate and resize your subject to create the perfect shot. Using Magic Editor, you can create new content to fill in the gaps after repositioning your subject.
Google has revealed that a limited number of Pixel phones will receive early access to Magic Editor later this year. It also shared that user feedback will play a vital role in enhancing it over time, so you can get the best edits possible for your photos.
PaLM 2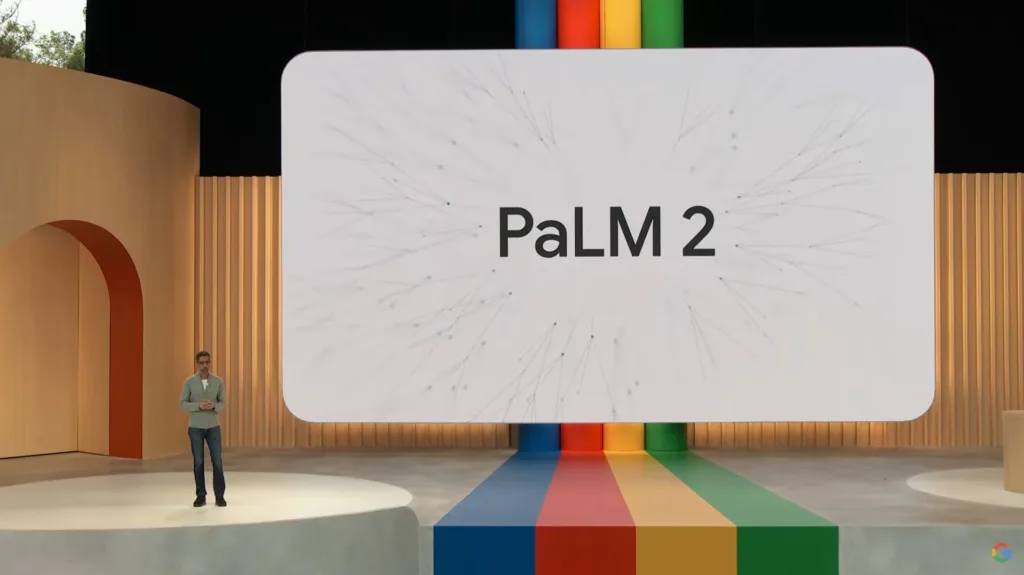 Google introduced latest PaLM model in production: PaLM 2. PaLM 2 builds on our fundamental research and our latest infrastructure. It's highly capable at a wide range of tasks and easy to deploy. We are announcing more than 25 products and features powered by PaLM 2 today.
PaLM 2 models deliver excellent foundational capabilities across a wide range of sizes. We've affectionately named them Gecko, Otter, Bison, and Unicorn. Gecko is so lightweight that it can work on mobile devices: fast enough for great interactive applications on-device, even when offline. PaLM 2 models are stronger in logic and reasoning thanks to broad training on scientific and mathematical topics. It's also trained on multilingual text — spanning more than 100 languages — so it understands and generates nuanced results.
Combined with powerful coding capabilities, PaLM 2 can also help developers collaborate around the world. Let's say you're working with a colleague in Seoul and you're debugging code. You can ask it to fix a bug and help out your teammate by adding comments in Korean to the code. It first recognizes the code is recursive, then suggests a fix. It explains the reasoning behind the fix, and it adds Korean comments like you asked.
Immersive View for Routes on Maps
Google has announced a new feature called Immersive View for routes on Maps, enabling users to preview their entire route visually, including bike lanes, sidewalks, intersections, and parking spots, before starting their journey.
Using computer vision and AI, Immersive View merges billions of Street View and aerial images to create a comprehensive digital model of the world, allowing you to view all the essential information about your route at once. Additionally, with the time slider, you can see air quality information and weather changes along the route, ensuring that you are prepared for any weather conditions.
Google is also launching an experimental release of Photorealistic 3D Tiles through their Map Tiles API, enabling developers to customize their 3D maps with high-res, 3D imagery behind Google Earth without having to build the 3D map from scratch.
Google has shared that it plans to introduce Immersive View for routes in select cities in the coming months. This feature will be available in cities like Amsterdam, Berlin, Dublin, Florence, Las Vegas, London, Los Angeles, New York, Miami, Paris, Seattle, San Francisco, San Jose, Tokyo, and Venice
Google Bard
Google has announced exciting updates to its conversational AI service, Bard, which runs on PaLM 2, a more advanced large language model. Google expanded bard to more than 180 countries and regions. The service is now available in Japanese and Korean, with support for 40 languages coming soon. Google has promised to maintain its high standards for quality and local nuances as it expands.
Google has made Bard more visually appealing by incorporating images into its responses and prompts. Users can now ask Bard for recommendations, and in addition to text, they will get helpful responses with rich visuals that give them a better sense of what they are exploring.
Google has also incorporated feedback from developers to upgrade Bard's coding capabilities. These upgrades include source citations and dark theme, and an export button, which allows users to export and run code with partner Replit, starting with Python. Google is also introducing two export options, allowing you to transfer Bard's replies directly into Gmail and Docs.
Google has announced that Bard will integrate with Google apps such as Docs, Drive, Gmail, Maps, and other services. This integration will allow users to fuel their curiosity and creativity in unprecedented ways.
Google Search Labs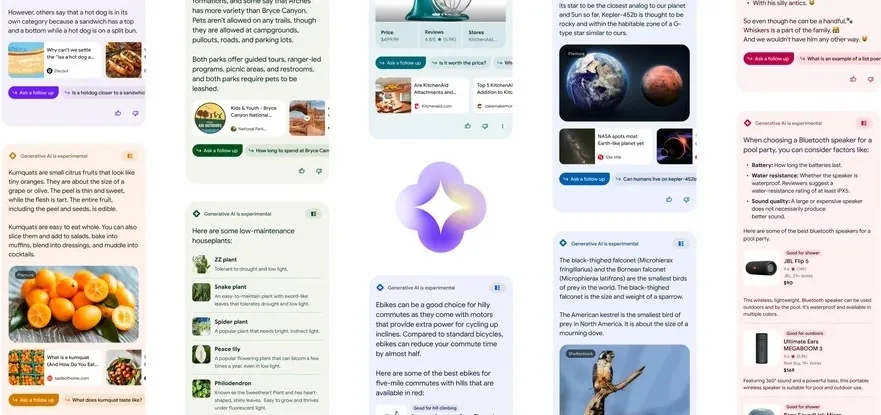 Google has introduced Search Labs, a new platform for early trials in search. new generative AI capabilities in its search engine, which will take more of the work out of searching. This will enable users to understand a topic faster, uncover new viewpoints and insights, and get things done more easily.
With generative AI, the search engine will provide an AI-powered snapshot of key information on a topic with links to dig deeper. Google search will also suggest next steps, including the ability to ask follow-up questions, with the context being carried over from question to question. Google's generative AI will also help users make informed decisions while shopping by providing a snapshot of noteworthy factors to consider and products that fit the bill.
This new experience is built on Google's Shopping Graph, which has more than 35 billion product listings, making it the world's most comprehensive dataset of constantly-changing products, sellers, brands, reviews, and inventory out there.Google has designed its new experiences to highlight and drive attention to content on the web, making it easy for people to dive deeper on the topic they're learning about. It will continue to send valuable traffic to sites across the web, including ads that help people find relevant products and services.
Google has trained these models to uphold search's high bar for quality and will continue to make improvements over time while limiting the types of queries where these capabilities will appear. Users can expand their view to see how the response is corroborated and click to go deeper. Google also stated that it is launching an experiment in Search Labs called SGE (Search Generative Experience). It will work on Chrome desktop and the Google App Android and iOS in the U.S. (Only in English at launch).